Three books to review, and I am kind of impressed with myself for finding a common thread- you would never find them on a shelf together. To me, they are all about new starts.  This will make more sense by the end of the post hopefully.
The first, Resurrection Year by Sheridan Voysey,is about Sheridan and his wife's decision to move from Australia to the UK after a decade of trying to start a family though IVF and adoption- to make a
new start.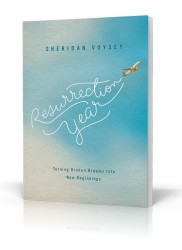 It is about the death of dreams, and about the refusal to be defined by what is not.  The move to England entailed a huge sacrifice for Sheridan, who was an established broadcaster and writer in his homeland, with that hard won and coveted asset all of us creatives need to stay alive professionally- a platform. He writes about the process of finding his way as an unknown with painful honesty and for me this was the heart of the story.  His friend who left a successful band due to burnout said this to him, "I was bedridden, exhausted, and had nothing left to offer the world. I could accomplish nothing to make God love me or feel proud of me. All I had left, in fact, was God's grace- which is all I'd ever had in the first place." Sometimes it takes a bush fire to clear the ground for new growth. This is a story of green shoots appearing in a desolate landscape, and
it is- overall- a good read, if a little sentimental here and there for my hard, cynical self (there's a particularly icky euphemism for physical intimacy on page 162. You have been warned).
The second, Economy Gastronomy by Allegra AcEvedy and Paul Merrett, is my latest cooking fad- it is the start of a new adventure in the kitchen (new start- see?).
It has loads of yummy recipes all geared to help you make the most of your ingredients and avoid the waste of food and time.  I have enjoyed eating everything I have made from it, though the family have made me promise never to make Gnocchi Al Forno again. Boo.
And finally,I am currently rereading Stephen King's On Writing: a Memoir of the craft in the hope that it will help me make a new start on my novel.
Last time I read it, it made me want to put it down and start writing. It is bearing a reread, but I am so knotted up inside about writing that it hasn't sent me back to my work in
progress yet.  I am only on page 95 though. Time for it to work its magic. Or maybe I should just sit down and type even as the fear grips my throat in the manner of a baddy in a horror story.