Vicky and I met at Waterloo the other day for lunch. I ordered a sandwich which would be a strong contender for the award for "Most bizarrely constructed sandwich filling" were there such a thing. I'm not sure what I was thinking- the sandwich was clearly described on the menu. Perhaps it had something to do with the distraction of Vicky's company- she is full of stories and observations and hilarity, and really, it was very hard to think about sandwiches.  
Vicky has written a book called "Do I have to be good all the time?" (you can buy it HERE), which kept me up past my bedtime reading- a rare occurrence.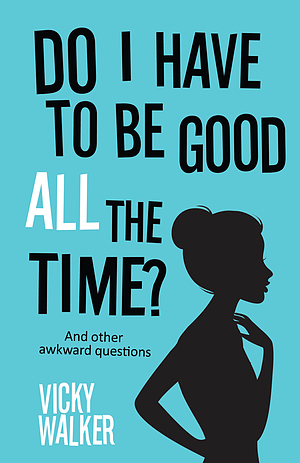 Halting the rave party in my mouth for a moment (chorizo, hard boiled egg, onion, smoked chicken, tomato, mustard, pesto whey hey!) I asked her how she came to write it:
Through excessive boredom initially. Having spent many years doing foolish things I found myself in something of a lull with a brain full of stories. Writing the first one down set in motion an unstoppable stream of anecdote, incident, nonsense and occasional insight. After I'd finished scribbling several weeks later it occurred to me it might be what's known as a book. Someone somewhere agreed and stuck a nice cover on it.
So what is the answer? Do you have to be good all the time? 
I couldn't possibly comment.
I am sure that unstoppable stream hasn't dried up. What are you working on at the moment? 
Playing to my strengths, I am writing about failure. What began as a book about life not going to plan has evolved into reflections on what success looks like and why we're often taught living a 'successful' Christian life equates with stability, comfort, worldly achievement, nuclear families, magical moments (often indicated by the much-loved '#Blessed' appearing all over our social media updates) and nothing short of perfection. I'm just not sure where that comes from – it doesn't seem to be in any Bible I've seen – and I think it creates pressure and sadness when life, almost inevitably, doesn't match up. I'd go further and say it shouldn't. Messy obscurity, changes of direction and unplanned diversions might be exactly what we're here for.
I'm thinking a fair bit about the marketing side of writing at the moment and I'd appreciate your
thoughts on it. What do you do with the tension between the commercial aspect of writing- what sells, what people want to hear, what will get published- and the quest for artistic and spiritual integrity?
Well, Jo, I like to think of myself as a truly humble, otherworldly person untainted by the compromises of commerciality (excuse me, just need to find a palm tree to tie my flamingo to while I rest awhile and sip my cocktail of liquid gold and myrrh) so it just isn't an issue for me. I am drivenonly by my artistic and spiritual
integrity, no matter what my personal stylist, beverage taster or flamingo groomer might have told you (unusually subordinate entourage I have at the moment).
I've never written in order to sell and feel uncomfortable with the idea of anything I write trying to tell people what to do and how to do it. I prefer to encourage people to think and assess their own experiences, their motives,actions and reasons, not to switch off their brains and follow a list of 'How to' do anything in order to be good, better or best. I'm really not qualified to do any more than tell my own story.
What do you love about your life as a writer, and what is hard?
Realising I had gradually reorganised my entire life in order to write was a disturbing revelation. Being antisocially nocturnal when I'm in the middle of a project, and also prone to drop whatever I'm doing if
words pop into my head, does make a regular schedule tricky. I love waking up with a whole piece of writing shouting at me, needing to be written down urgently, but I struggle with sitting down to write in a disciplined and
orderly fashion and coming across as an organised human being. But the only way to be a writer is to write and it is fun and feels necessary no matter what. And I love the other writers and storytellers I meet through doing this. People who play with words and pictures are a life-enriching breed.
Amen to that! Thank you for a life-enriching if not nutritionally conventional lunch Vicky xxx